LITTLE ROCK, Ark. (AAA) -- The three Hall of Fame organizations under the umbrella of the Arkansas Activities Association have selected their honorees for the 2020 induction ceremony.
The Hall of Fame for the Arkansas High School Coaches Association and the Arkansas Officials Association was formed in 1995. The Arkansas High School Athletic Administrators Association began its Hall honors in 2007. The three organizations combined into one Hall of Fame in 2013.
The Hall of Fame selections were released by the executive committees of each organization.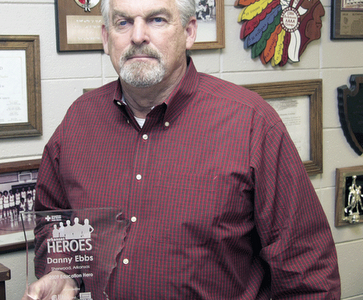 The six new AHSCA honorees are Mike Malham of Cabot (football), Danny Ebbs of Blytheville, Parkdale, Stephens (basketball), Carl Ramsey of Lamar (basketball), Buzz Bolding of Conway, (football), John McMurry of Monticello, Hamburg (football) and Gary Don Smith of Hot Springs Lakeside (basketball, golf).
The six new members of the AOA are Gerald Jones of Sherwood, Jim McGee of North Little Rock, Huey Pugh of Maumelle, Grayling Wheeler of Searcy, Mike Willyerd of Leachville, and Robert Yelder of Jacksonville.
The three new members of the AHSAAA are Annette Scogin of Springdale, Rodney Echols of Forrest City, and Janet Wood of Flippin.
The installation banquet will be held on Friday, July 10, 2020, at Horner Hall in the Hot Spring Convention Center starting at 6:30 p.m. For ticket information contact Nicole Cunningham at 501-955-2500.
Ebbs coached at Blytheville, Parkdale and Stephens. He is the only high school coach to have
won seven (7) state titles in basketball at three (3) different schools. He also won overall titles at three different schools: Stephens girl's state & overall champs in 1977; Parkdale boy's state and overall champs in 1979; Blytheville boy's state champs in 1986; Blytheville boy's state and overall champs in 1989.
After winning the overall title at Parkdale (class B) with players all under six feet, Ebbs was featured in an article in Sports Illustrated - "In your Face Goliath." Ebbs is a 5-time Coach of the Year and served as the head coach for both boys & girls All-Star games. His overall record is 633-104.
In 2009 Coach Ebbs received the American Red Cross Hero Award for performing CPR for a motorcycle accident victim, saving the man's life. He received the Lowell Manning Award in 1979.